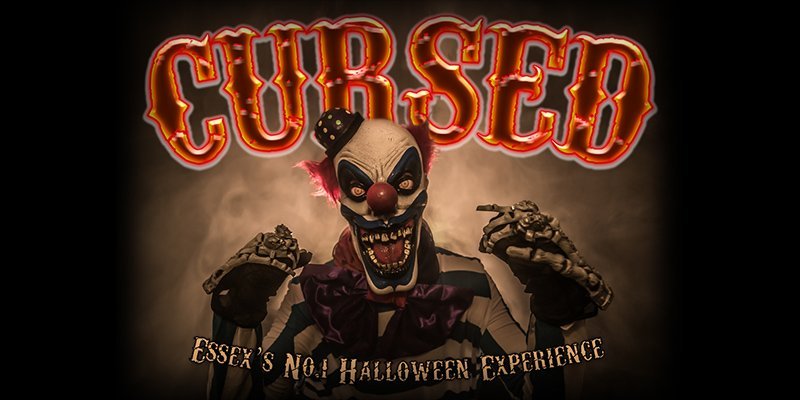 Horror Hunter Rating
Comments Rating
( reviews)
Journey through a frightful evening of screams and laughter… eerie corners, blood-curdling frights, ghoulish entertainers, heart-pounding, adrenalin pumping, life-threatening fear… your worst nightmares come true!
Cursed at Wat Tyler Country Park consists of 6 scare attractions with lots of other scaretainment taking place around the park, guaranteeing a unique and great and different night out.
Cursed Essex's 2018 scare event was somewhat damaged right off the bat by the fact that due to a fire, there main attraction "cell 13" was out of action for the remainder of the year. We were told that we could redeem our disappointment in exchange for an extra run on any of the other mazes, but there's little to no appeal in repeating any of the mazes once you know what happens and where the scares are.
Offering 5 live action horror mazes it would seem like Cursed is akin to any other scare park, but alas this is untrue, the key difference between this and other scare parks being that the others offer mazes AND other attractions. At Cursed, mazes is all you get.
This wouldn't be a problem of course if the mazes on offer were top class mazes, but the ones on offer at cursed feel decidedly improvised, being constructed mainly of tents, ply boards and hay bales instead of a real structure.
The live actors were suitably scary when they needed to be, but the scares felt predictable and over scripted. There were certainly funny moments, although there are times when we found ourselves laughing when we weren't supposed to due to the action or situation being ridiculous.
Cursed Essex is a fun time to be had despite its problems, but with so many other scare parks in the UK offering a higher quality experience, its hard for cursed to seem like anything more than an afterthought, True thrill seekers should turn their sights elsewhere this Halloween.