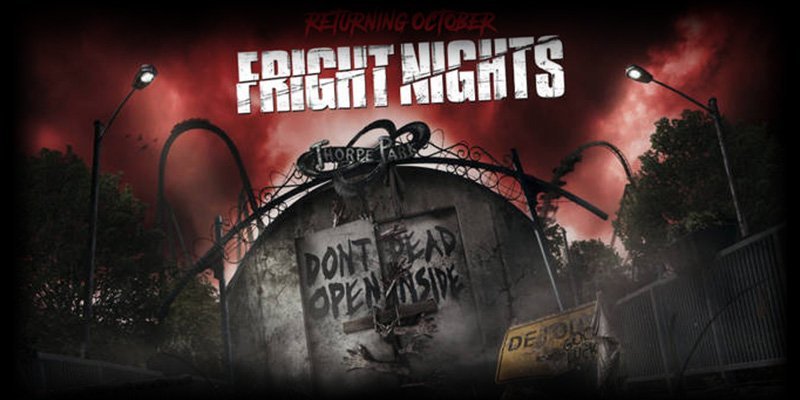 Horror Hunter Rating
Comments Rating
( reviews)
"The park changes at night"
Thorpe park undergoes it's annual Halloween season transformation from family friendly theme park to fright filled scream park. Hosting all manor of spooky attractions from scare mazes and live actors to a unique horror only cinema, Thorpe parks fright nights are one of the most well established scream park experiences in the UK, does time bring wisdom?
Thorpe parks 2018 fright night promised us an entire fleet of new attractions including two brand new scare mazes, live street performers and a one of a kind horror cinema experience, but did it deliver?
As usual with the fright nights, the park was full to the brim with fellow scare seekers, which was both a blessing and curse. On the one hand, the masses of people meant that the park had a really fantastic atmosphere of excitement and fright. On the other hand, the hordes of shambling guests meant that the queue times for each of the scare mazes were relatively immense. There are times in horror when a bit of a wait is beneficial to build tension and increase the fear factor, however this was not one of them, and simply equated to standing around for ages between scares.
When it comes to the mazes themselves, there was a clear increase in the quality of the acting and mazes compared to the previous years. Even the experiences that we'd been through before on previous years had been subtly changed enough to provide fresh scares when when we thought we knew what was coming.
Unfortunately, there was one clear exception to the quality increase this year, and that was the Vulcan Peak maze. Vulcan peak was hosted in the "i'm a celebrity" attraction and was billed as an atmospheric jungle themed scare maze. The reality was that you're lined up, told to follow a rope and then given a bag to put on your head to leave there entire experience. The idea of a horror maze where you're forced into blindness is something that is quite unique and has a fair amount of potential. That's why it was such a shame that Vulcan Peak was so very badly executed.
That all being said, Vulcan peak is only a small part of what is a massive horror night out. The quality of the rest of the mazes as well as the 50% scary 50% hilarious live actors more than makes up what Vulcan Peak lets down.
The Walking Dead maze Do or Die had a fantastic start with an American School bus really setting the scene, the rest of the maze used containers to create the maze, which took people through indoor and outdoor elements. The actors were good although felt a little tired, although this could just be our group getting bored of 'zombies'. Platform 15 was a highlight, with excellent storytelling throughout and great sets which really help sell the scares.
There is more than enough to do to fill an awesome horror night out for groups of all shapes and sizes, and one of the more refined scream parks in the UK.